Vintage books are just too pretty to spend their lives sitting on a shelf at a thrift shop. Wayne and I like to make them into unique lamps. Here are just three examples of the several book lamps we've designed.
I have loved each book lamp we've made, but we've sold them all (and made one especially to give away as a gift). It was time to have one of our own.
I needed a small lamp in the kitchen, so Wayne used four vintage cookbooks and made the base. I deconstructed a thrift-store lampshade and added cookbook pages to the shade, embellished with my grandma's three well-worn measuring spoons and a vintage bird cookie cutter. Finally a book lamp of my own!

But I knew already then that one book lamp in my home would not be Enough.

Fast-forward to a couple of weeks ago.
I was thinking for the umpteenth time
about how poor the lighting is in our living room.
It's a gorgeous room, our favorite in the house, but let's just say it's a hard room for arranging furniture or lighting. I realized I wanted a floor lamp, but I wanted a floor lamp with Personality and Character, and one that was movable to put the light wherever it may be needed.
We have a LOT of vintage books on hand, and I got the idea that maybe we
could make a tall floor lamp with books, so I hauled 41 volumes upstairs and arranged them by size and color. We loved how the book stack made a quilt of color in that corner of the living room.
Now that I knew I'd love the look of the book floor lamp in our living room, Wayne was on board to make it happen. He's really a "let's make it happen" kind of guy, whenever I get one of my weird ideas. (How blessed am I?!?)
We had just the right old cupboard door in our garage to use for the base. Wayne added casters to the bottom so our floor lamp would be portable.
I found the right size/shape lampshade at Goodwill and pulled the ripped, stained silk fabric off of it. Next I wrapped all the metal parts of the structure in book pages. Then I took a roll of wheat-colored tulle and wrapped it around and around, bunching it up with each pass because I wanted the shade
to have some texture and depth.
Every book had to be drilled right through the middle, and I've got to say that is always painful for me. But I have to remind myself that most of these books were from thrift shops or rescues from the final day of a used-book sale.
Nobody else wanted them, and I can't read them all.
At least now the books are being used and appreciated.
I can even say they're well-loved. I LOVE my new floor lamp!
Yes. It's kind of snowy and blowy out there.
But we're warm and cozy--with newly-improved lighting--in here.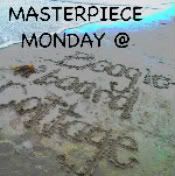 Linked with Beyond the Picket Fence Vintage Inspiration Party
Inspire Me Monday at Sand and Sisal
Project Inspired at An Extraordinary Day