Wayne and I spent some time in Germany
this past December,
and I found myself delighted with the half-timbered buildings.
More about that below, but I need to change the subject for just a moment...
After the Christmas decor has been put away and the house feels a bit forlorn,
I enjoy getting out my winter decorations.
Little thrift store skiers
look like my husband and me,
after I painted them with the
appropriate beard/hair colors.
Here we are, skiing through the woods!
The piano top gets some
sweater-covered candleholders
(buy a thrift-store sweater and cut off the sleeves)
and the Hobby Lobby lamp gets a cashmere
"slipcover" on the shade (you guessed it,
a thrift-store sweater cut down).
A sweater pillow on the chair and a
vintage green wicker laundry basket
of pinecones atop the armoire I painted.
Now, back to those lovely houses in Germany.
This year, I decided to make my own little village of half-timbered buildings
and put them on a large grapevine wreath
I found at (where else?) the thrift store.
The wreath has little twinkling lights on it,
which you can barely see in the picture below.
I'll probably add a few more trees, and maybe another building or two, but it's finished for now, and I have my own little European village,
hanging in my winter-cozy living room.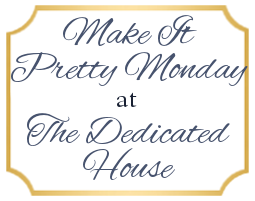 Linked up with The Dedicated House Make-It-Pretty-Monday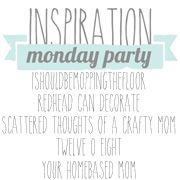 Linked up with Cozy Little House Tweak-It-Tuesday Party
Linked up with Knick of Time's Vintage Inspiration Party
Linked up with DIY Showoff That DIY Party